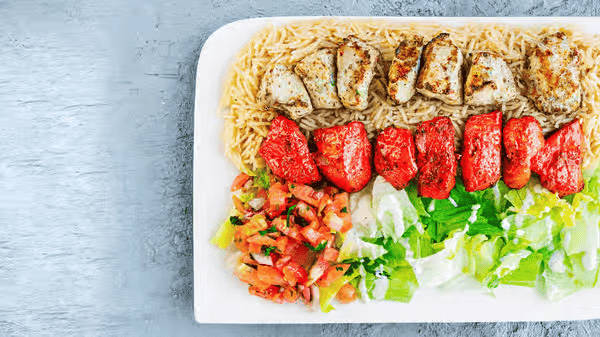 Indulge in the mouthwatering Double Chicken platter at The Kabob Guys Afghan Grill. This special plate features a delightful combination of flavours, starting with 1 Classic Chicken skewer and 1 Tandoori Skewer. Both skewers are carefully marinated with traditional Afghan spices, infusing them with a rich and authentic taste. Grilled to perfection, these succulent chicken skewers promise a culinary experience that will leave you thoroughly satisfied.
Accompanying the delectable chicken skewers is a serving of Golden Brown Basmati Rice, flawlessly cooked to complement the grilled meats. The tender and fluffy rice provides the perfect base for this tantalizing platter.
To add a refreshing touch to the meal, the Double Chicken platter includes a Mix-Green salad, bursting with crisp and vibrant greens. This salad not only balances the richness of the chicken but also adds a delightful freshness to the entire dish.
Of course, no Afghan meal is complete without the beloved Afghan Naan, and this platter delivers with a freshly oven-baked one. Soft and pillowy, the Naan is perfect for savouring the succulent chicken and soaking up the delicious flavours.
To enhance your dining experience, the platter is served with a variety of sauces that have been carefully created to enhance the flavours of the Classic Chicken and Tandoori Skewers. These sauces add an extra layer of indulgence and excitement to your meal.
Try the Double Chicken platter at The Kabob Guys Afghan Grill if you love chicken or want a delicious dining experience. Head over to the restaurant and treat yourself to this special plate, brimming with the authentic and tantalizing tastes of Afghanistan. You're sure to leave with a contented palate and a desire to return for more of these delectable delights.