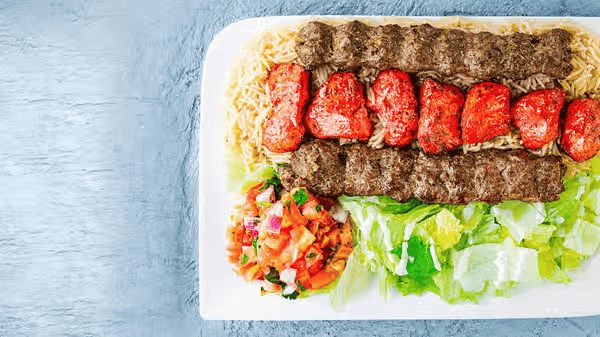 The Chicken and Shish dish at The Kabob Guys Afghan Grill is a delicious mix of flavours and textures, made to please your taste buds. The platter includes 1 Chicken Skewer and 2 Shish Skewers. They are seasoned and marinated with traditional Afghan spices and herbs for an authentic and delicious taste.
The Chicken Skewer boasts tender and succulent pieces of marinated chicken, grilled to perfection, and infused with the aromatic blend of Afghan spices, creating a delightful harmony of flavours that will leave you craving for more.
Accompanying the Chicken Skewer are 2 Shish Skewers, featuring juicy and tender chunks of marinated meat, perfectly grilled to a smoky and charred finish. The Shish Skewers are a true highlight of Afghan cuisine, reflecting the rich culinary heritage of the region.
The platter includes a bed of deliciously cooked golden brown Basmati Rice that perfectly complements the tasty kebabs.
To add a refreshing touch, the Chicken and Shish platter includes 2 types of salads, carefully curated to complement the grilled meats. These salads not only provide a burst of freshness but also enhance the overall dining experience with their vibrant and crisp textures.
No Afghan meal would be complete without the beloved Afghan Naan, and this platter delivers with freshly baked Naan, soft and pillowy, perfect for savouring the grilled delights and soaking up the delicious flavours.
The Chicken and Shish platter includes a variety of sauces designed to enhance the flavours of the Chicken and Shish Skewers, making your meal even more enjoyable.
Whether you're a fan of succulent chicken or crave the deliciousness of Shish Kebabs, this platter promises a feast that caters to all your preferences. The Chicken and Shish platter at The Kabob Guys Afghan Grill is perfect for sharing or enjoying by yourself. It offers an unforgettable dining experience with authentic and delicious flavours from Afghanistan. Soo, head over to the restaurant and treat yourself to this delightful culinary journey through the heart of Afghan flavours.