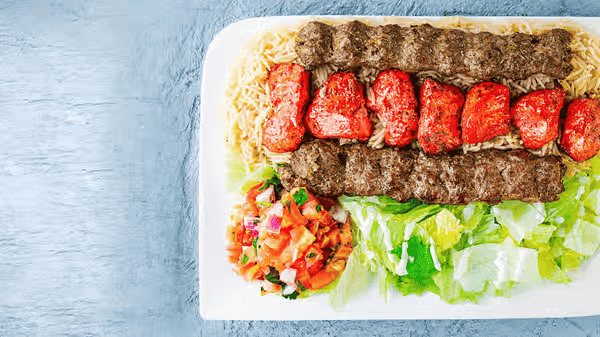 Calling all food enthusiasts and connoisseurs of Afghan cuisine! Get ready to be amazed by The Kabob Guys Afghan Grill's #3 Most Liked dish, the legendary "Chicken and Shish" Special Plate. This culinary masterpiece has been adored by an overwhelming 93% of its patrons. It's time to try the delicious combination of 1 Tandoori Chicken Skewer and 2 Shish Skewers. They are marinated with traditional Afghan spices and grilled perfectly. This Special Plate includes golden brown Basmati Rice, Mix-Green Salad, oven-baked Afghan Naan, and a variety of delicious sauces. Join us as we unravel the secrets behind its popularity and why it reigns as a firm favourite among diners.
The "Chicken and Shish" Special Plate combines two delicious dishes – Tandoori Chicken Skewer and Shish Skewers. The Tandoori Chicken boasts tender, succulent pieces of marinated chicken, tantalizingly seasoned with traditional Afghan Spices, and grilled to smoky perfection in the Tandoor. Complementing this royal chicken affair are two Shish Skewers, showcasing juicy chunks of marinated meat, expertly grilled to achieve a delectable charred finish. Together, they create a taste symphony that transports diners to the heart of Afghan culinary heritage.
Prepare to be captivated by a sensory feast as the "Chicken and Shish" Special Plate is presented to you in Section 2. The Tandoori Chicken smells amazing with its spices. The beautifully grilled Shish Skewers are irresistibly tempting, adding a delightful touch of green to the ensemble. And let's not forget the freshly oven-baked Afghan Naan, served warm and inviting, awaiting to be savoured with the exquisite kebabs.
The "Chicken and Shish" Special Plate's main highlight is the Golden Brown Basmati Rice it is served with. Each grain is lovingly cooked to perfection, enhancing the flavours of the grilled meats with its fragrant allure. This regal pairing elevates the dish, providing a satisfying and wholesome component to this culinary experience.
Section 4: The Saucy Indulgence has a great choice of sauces. The "Chicken and Shish" Special Plate is perfect for you. Our sauces are made specifically to enhance the flavours of Tandoori Chicken and Shish Skewers. They add an extra deliciousness that will please your taste buds.
The "Chicken and Shish" Special Plate at The Kabob Guys Afghan Grill is the #3 Most Liked dish because of its delicious blend of flavours, captivating aromas, and satisfying components. As you embark on this culinary adventure, you'll discover the authentic taste of Afghanistan brought to life in every bite. Whether you're a loyal fan of Afghan cuisine or a first-time explorer, this Special Plate is a must-try for anyone seeking a memorable dining experience. Come to The Kabob Guys Afghan Grill and experience the amazing combination of tradition and innovation with our delicious "Chicken and Shish" dish that will make you feel like royalty.