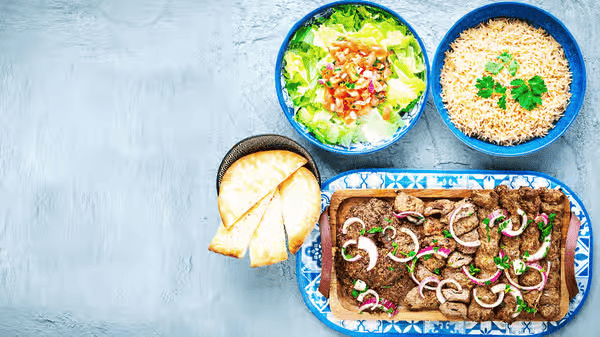 The Beef Mix Platter at The Kabob Guys Afghan Grill is an exquisite offering specially crafted for all the beef enthusiasts out there. It's a celebration of flavours and textures, meticulously curated to delight your taste buds and satisfy your cravings. This delectable platter boasts an array of mouthwatering delights that will take you on a culinary journey through the rich and authentic tastes of Afghanistan.
The main part of this meal is 2 delicious Beef Tikka Skewers. Indulge in the succulent beef skewers, infused with the rich flavours of authentic Afghan spices. The grilling process ensures that the meat is cooked to absolute perfection, leaving you with a juicy and flavourful experience that's second to none.
In addition to the Beef Tikka, you can Savoy the delightful flavour of 4 scrumptious Chaplee Skewers, a cherished Afghan delicacy. The ground beef patties are seasoned with a blend of herbs and spices, giving them a unique and delicious taste that represents the region's culinary heritage.
But that's not all; the platter also features 4 savoury Shish Skewers, where succulent chunks of marinated beef are grilled to tender and smoky perfection, creating a truly memorable dining experience.
The Beef Mix Platter includes a tray of delicious Golden Brown Basmati Rice, perfectly cooked to fluffy perfection, serving as a delightful base for the exquisite kebabs.
The platter comes with 2 servings of Mix-Green salad to balance the rich meaty flavours. The freshness and crispness of the salad provide a delightful contrast to the grilled meat.
And what's a truly authentic Afghan meal without some freshly oven-baked Afghan Naan? The Beef Mix Platter includes 4 of these soft and pillowy bread, perfect for sopping up the delectable sauces that accompany the dish.
Speaking of sauces, the platter comes with an assortment of delectable dipping sauces that elevate the flavours of the kebabs to new heights. Sauces are made to enhance the flavours of Beef Tikka, Chaplee, and Shish Skewers, making your meal even more delicious.
Try The Kabob Guys Afghan Grill's Beef Mix Platter for a special occasion or a delicious treat.With its authentic flavours, generous portions, and thoughtfully curated components, this platter promises a culinary adventure that will leave you craving for more. Visit The Kabob Guys Afghan Grill with your loved ones and try their Beef Mix Platter to experience the delicious world of Afghan cuisine. Your loved ones, visit The Kabob Guys Afghan Grill, and immerse yourself in the delightful world of Afghan cuisine through this tantalizing Beef Mix Platter.